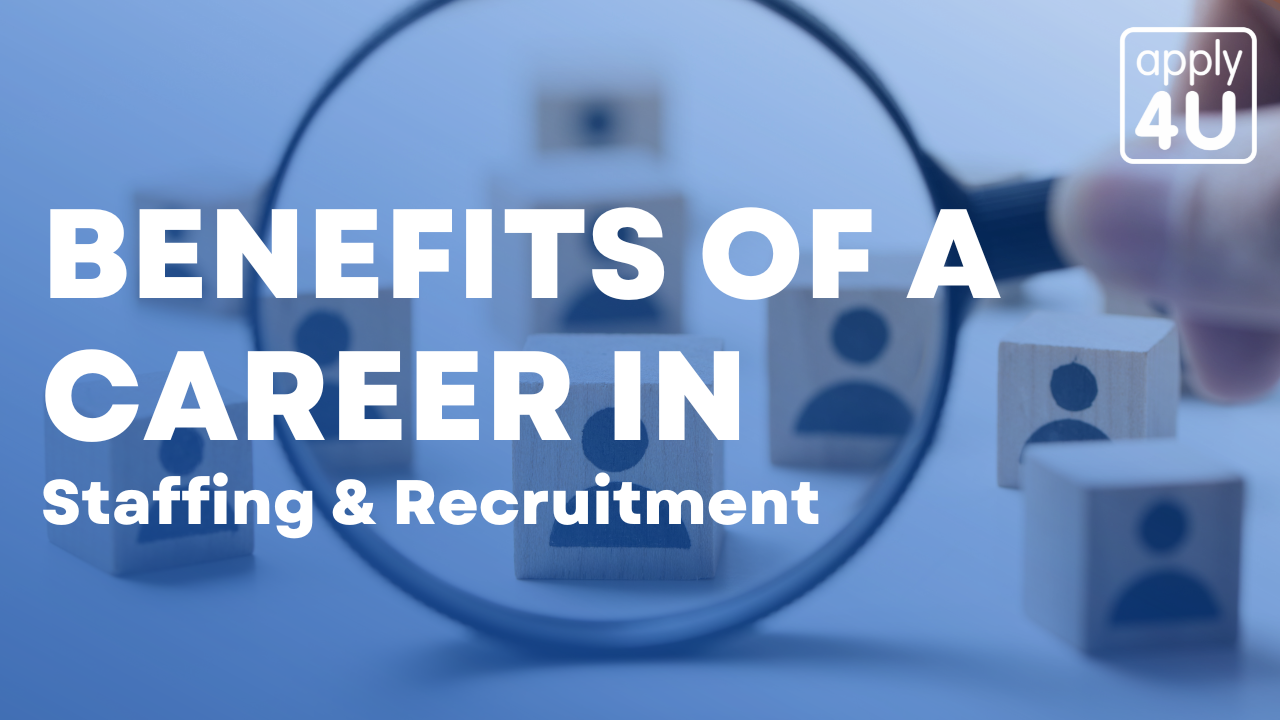 If you've ever wondered about a career that lets you wear the hat of a matchmaker, detective, and career coach all at once, you're in the right place! Let's explore the benefits of joining the ranks of staffing and recruitment professionals…
Making a Difference
Imagine a job where you're not just a small cog in a big machine but a key player in changing someone's life for the better. That's Staffing and Recruitment for you! One of the most rewarding parts of the industry is when you help job seekers find jobs that truly resonate with them. Not only to help them find any job but one that matches their skills, ambitions and values. Whether it's a recent graduate landing their first job or a seasoned professional taking the next step in their career, you're there to guide and support them. And when you're successful at it, you witness firsthand the positive impact it has on individuals and companies alike.
Working in Staffing and Recruitment, you're the one that spots that hidden gem of a candidate and connects them with a company that's been searching for their unique skills. It's like being the Sherlock Holmes of the job market.
Diverse Career Paths
Working in Staffing and Recruitment opens doors to multiple career tracks - recruitment consultant, talent acquisition specialist, HR advisor, and the list goes on. And if you feel like focusing on a particular industry like tech, healthcare or finance, you can do that too! Become a job market connoisseur. Choosing a career path in Staffing and Recruitment allows you to explore different roles, industries and specialties until you find your sweet spot. Your career path isn't set in stone so if you're someone that enjoys variety and enjoys the thrill of exploring new horizons, this is the place to be.
Skill Development
Every day is a chance to grow and sharpen your skills. From mastering the art of communication to becoming a problem-solving maestro, let's take a look at how each day in this dynamic industry contributes to your professional growth.
Communication Skills: Whether it's converting job opportunities to candidates or providing feedback to clients, clear communication is key and in this industry, you're bound to become a pro at effective communication

Relationship Building: Building and nurturing relationships with candidates and clients becomes like second nature.

Time Management: Procrastination will become a thing of the past with the multiple tasks and deadlines you'll be given.

Empathy: Understanding candidates' and clients' needs requires empathy so working in this industry you'll develop a keen sense of empathy.

Networking: Before you know it, you'll become a social butterfly of the business world, connecting with professionals and candidates across industries.

Humour: A good sense of humour can be a lifeline - because, let's face it, you've got to find the right candidate and convince them that "water cooler chats" and "coffee machine gossip" are more exciting than they sound.
These skills not only make you a star in the Staffing and Recruitment industry but are also transferable to any other career path, not that you'd want to change career paths once you get into Staffing and Recruitment anyway…
Work-Life Balance
The holy grail of a fulfilling career - work-life balance. In Staffing and Recruitment, achieving this balance isn't just a dream; it's a reality.
Many Staffing and Recruitment roles allow for either remote or hybrid working - say goodbye to long commutes and hello to a more relaxed work environment. While every profession has its demands, professionals in the Staffing and Recruitment industry often find themselves with more control over their time. In this industry, it's not about working harder; it's about working smarter so as you embark on this journey, remember that balance isn't just a myth - it's a real and attainable goal.
Job Stability
While economic uncertainties may send ripples through various sectors, the demand for staffing and recruitment will always remain constant.
Regardless of economic conditions, companies consistently require talented professionals to drive their growth and success. Staffing agencies also provide temporary and contract staffing solutions; so during economic fluctuations, companies may turn to temporary hires to manage workload fluctuations without committing to long-term employment. Either way, staffing and recruitment professionals act as a bridge between job seekers and employers, offering stability in uncertain times. While some industries experience layoffs and hiring freezes during economic downturns, the staffing industry stands strong!
Conclusion
Now, if you're feeling inspired and ready to embark on a career that combines purpose, growth, and stability, your journey starts right here! Click here to register and explore the world of Staffing and Recruitment opportunities that await you.
Your dream career could be just a click away!
Powered by Froala Editor